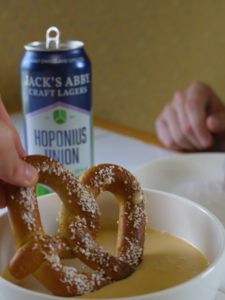 With the leaves changing and the temperature dropping, it's time to make it cheesy. Check out our recipe for HopU Beer Cheese, which pairs perfectly with soft pretzels, chips, or just a spoon (it's that good).

Ingredients:
1 1/2 tablespoons unsalted butter
1 1/2 tablespoons all-purpose flour
1/4 teaspoon garlic powder
1/4 teaspoon onion powder
6 oz. beer
1/2 cup whole milk
1 cup cheddar cheese
1/2 cup gruyere cheese
1/4 teaspoon salt
Instructions:
Melt butter in a saucepan over medium heat.

Add flour, garlic powder, onion powder, and whisk until all dry ingredients are absorbed.
While whisking, pour in beer and milk. Bring to a simmer over medium heat, whisking often for 2 to 3 minutes. Simmer until thick enough to coat the back of a spoon.
Reduce heat to low, grating cheeses if not already shredded. Add cheese and salt, stirring until cheese is fully melted in.
Serve while hot with dippable items such as pretzels, chips, etc.
And of course, serve with a cold Hoponius Union!