Written by Joe Connolly, Sales Director
It felt strange, packing our bags full of beer to bring with us to Germany, and not vice versa. Well, I should give them credit; Jack's daughters packed us a few suitcases worth of our festbiers so we could share them with our friends at Weihenstephan.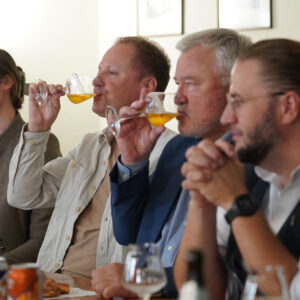 Strange, of course, because we were kinda like students bringing in our assignments to share with actual masters of the same craft. Rather than describing how we take inspiration from Bavarian and Franconian lagerbier tradition, we'd actually be able to share our work with the brewers, professors, and crew of the oldest brewery in the world. What would actual Bavarians think of some young lager brewery from the suburbs of Boston?
"It's an irony of the Weihenstephan brewery that the oldest remaining building on the campus, the former cloister, houses their state of the art laboratory. Under medieval vaulted ceilings, we unpacked and presented our beers to some of the world's foremost beer experts. In practice it was not altogether dissimilar from our own sensory analysis process; a shared moment of hushed silence as each beer was presented, discussed and dissected, followed by a crescendo of voices coming together to compare notes.

As much as we wanted to claw some constructive criticism from our collaborators, little was forthcoming. Their enjoyment of Fest of Both Worlds was apparently genuine. While our collaboration is certainly not "hoppy" by American craft beer standards, the bright and inviting new world hop flavor paired with the classically drinkable festbier character won them over. What initially felt like running a gauntlet ended with toasts and the kind of shop talk brewers all over the world love to engage in." –Jack Hendler, Co-Owner & Chief Production Officer
On the opening day of the Freising Volksfest, we assembled with the Weihenstephan team in the town square to watch the parade of traditional marching bands, antique fire engines, and horse-drawn carriages as they processed to the fairgrounds. But we weren't really there to watch the parade; we were part of it. The next surprise was that the Weihenstephan crew had brought the last cold cans of our beer for us to all enjoy together during the parade.
That's how we found ourselves processing through the town square, over the Isar Bridge to the Freising fairground, kicking off the 92nd annual Volksfest with cans of
Copper Legend
,
Brite as Hell
, and Fest of Both Worlds in hand, an incongruity caught here in a press photo. Truly surreal moments, indeed.
That evening, it really started to sink in that our hosts were being genuine with their praise. There's something earned about a Bavarian compliment, and their enthusiasm for our beer was not just politeness. It meant something to all of us when the Weihensthepan director proclaimed that we were, in fact, Bavarians ourselves, a comment perhaps inspired the mutual consumption of uncountable liters of Festbier but one that we'll hold on to just the same.
The conviviality and spirit we shared throughout this collaboration were not for show. We've been really fortunate to find in Bavaria some like-minded, forward-thinking colleagues who care as much about this industry as is humanly possible. The care they put into their beer, their passion for brewing technique, and the culture at Weihenstephan, have been inspiring for all of us. We hope to bring home and share the gemütlichkeit with you all this season.
Prost!