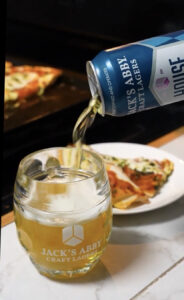 A duo that withstands the test of time: pizza and beer. 
Whether you're drinking your beer while enjoying pizza, enjoying pizza while you're making beer, or using beer in your pizza – House Lager & pizza is a great combo. 
We took our two favorite things and combined them to make this House of Pizza!
Ingredients:
2 C all-purpose flour
1/2 teaspoon baking powder
1 teaspoon salt
6 oz. cold House Lager
Instructions:
Add all dry ingredients to a bowl and mix

Add in beer, stirring with a fork

Knead for 5 minutes on a lightly floured surface

Transfer back to bowl and oil the dough

Cover and rest 30 min-1 hour

Roll out the dough on a baking sheet and add toppings

Bake at 500 degrees for 18-20 minutes

Enjoy with the rest of the House Lager can 😉