Recipe written and developed by Allo Gilinsky, the Craft Beer Concierge
Even though Octoberfest may *officially* be over, there's no reason you can't keep celebrating throughout the rest of the season. One way to keep the festivities and the beer flowing is to cook up this indulgent & fest-inspired beer Mac and Cheese recipe using Copper Legend.
This is a recipe that I have evolved over the years, starting simply with a beer cheese sauce, and now incorporates the best of the 'fest, with bratwurst, onions, pretzels, and mustard all mingling to create a perfect Octoberfest dish. Whether you want to share this over a Sunday dinner with your friends or make it for yourself and reap the benefits of loads of leftovers, it's a seasonally appropriate twist on a favorite comfort food you'll keep coming back to.
Copper Legend is the perfect beer to start not only alongside, but in this dish, due to the malty notes flowing throughout. Take note of how Copper Legend enhances the body and flavor of the cheese sauce. How simmering the bratwurst and onions in Copper Legend adds a bit of sweetness and depth of flavor. You'll notice how the beer and food interplay with one another at the end of this recipe.
So – what are you waiting for? Load up a stein with some Copper Legend, turn on the tunes, and keep Octoberfest flowing with this recipe.
Ingredients:
1 box pasta (I used rigatoni)
2 cups shredded cheese (my favorite blend for this is extra sharp cheddar, sharp cheddar, and smoked gouda)
One yellow onion, diced
One package bratwurst, taken out of casing
3 tablespoons flour
3 tablespoons butter
2 cups whole milk
2 cloves crushed garlic
2 cups of Copper Legend
2 tablespoons stone ground mustard
1 cup pretzels finely ground in blender or food processor until breadcrumb consistency
Salt, pepper, smoked paprika, and garlic powder to taste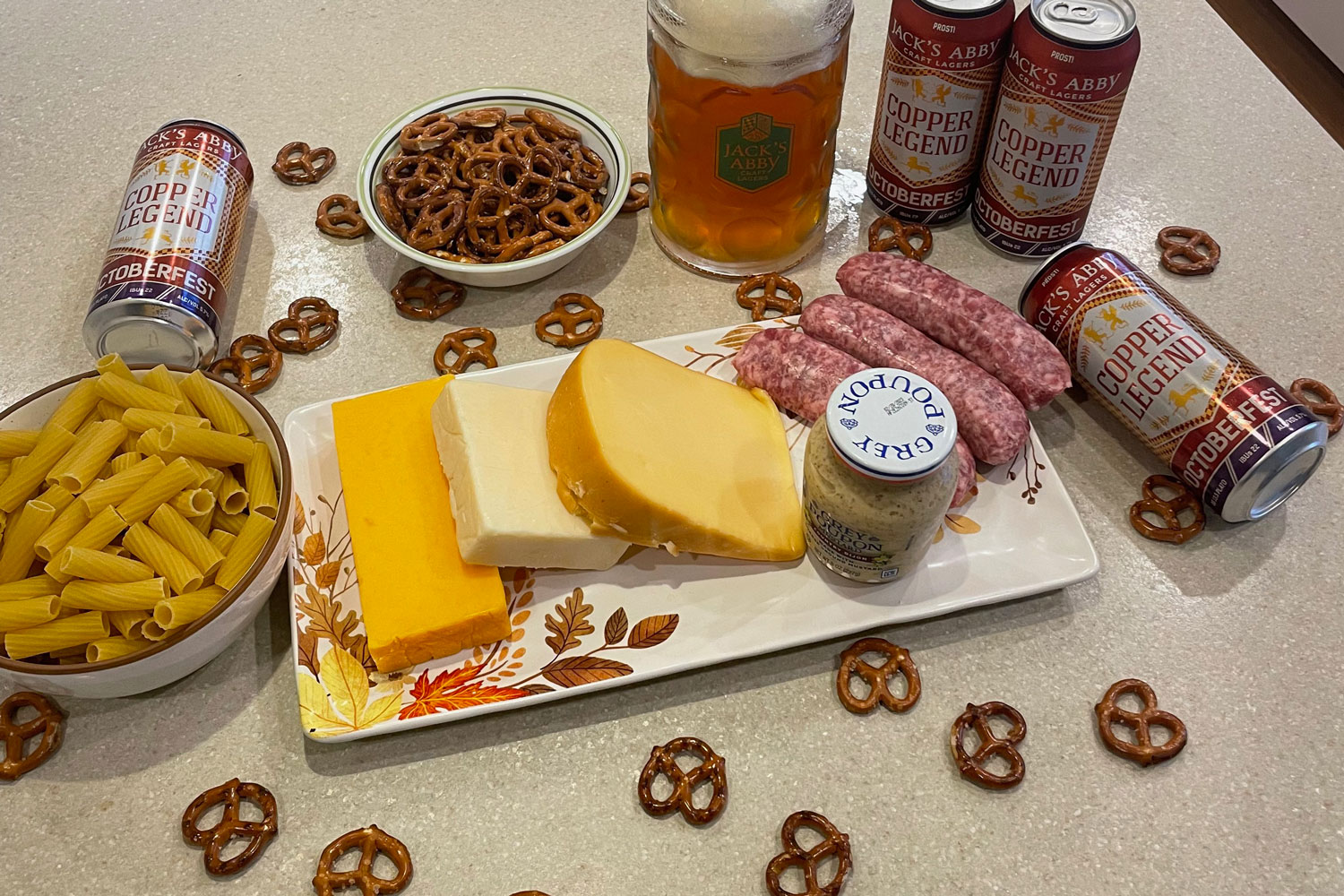 Instructions:
1. First and foremost, crack open a can of Copper Legend for yourself, and pour it into a stein to enjoy while cooking. Then proceed to preheat oven to 400 degrees.
2. Boil large pot of salted water for pasta. Once boiling, add pasta and cook 7 to 8 minutes or until it just starts to soften. You want the pasta just under al dente because it will continue to cook in the oven. Set pasta aside and season with above-mentioned seasonings, toss to keep loose.
3. While pasta is cooking, it's time to grate your cheese! Shred all three cheeses until you have about 2 cups worth. If you go over, let's face it – there's never anything bad about too much cheese.
4. Add bratwurst and yellow onion to a pan over medium-high heat until they start to caramelize/brown, about 10 minutes. Then, bring your heat down to low and deglaze with one cup of Copper Legend. Let the Copper Legend simmer and reduce with your brats and onion mixture for another 10 minutes
5. Add garlic, a tablespoon of stone ground mustard and a sprinkle of smoked paprika to your bratwurst mixture. Give the mixture a nice stir and turn off the heat, letting the flavors meld together while your cheese sauce gets started.
6. To start your roux, or base of the cheese sauce, take your butter and melt on low heat in a saucepan or pot. Once melted, whisk in the flour tablespoon by tablespoon. You want to keep whisking over low heat to combine and get the floury taste out, about 3-4 minutes, the roux should turn a light brown sugar color and start to bubble when it's coming together.
7. Add a cup of milk and keep whisking until there's a thick paste-like consistency, then you'll add the next cup of milk and constantly whisk that to combine. Now? It's beer time! Pour the last cup of Copper Legend into the pot and whisk together to combine with the roux. Let this come together for about 8-10 minutes on low heat, to cook the alcohol out. Add salt, pepper, and garlic powder then increase the heat minimally and let the sauce come to a low simmer.
8. Take it off the heat and start adding in your cheese. You'll want to whisk constantly to create a smooth sauce. You can always add more cheese if it isn't cheesy enough. Add one tablespoon of mustard to the sauce and stir to combine.
9. Take the cooked bratwurst and onions, add them into your pasta pot, then slowly fold in the cheese sauce. Carefully transfer this to a greased baking dish or cast-iron skillet.
10. Add the crushed pretzels, with a handful of grated cheese evenly along the top of the dish, and if you'd like, sprinkle smoked paprika along the top. All of this will help give your mac and cheese that perfect crust. Put into the oven and bake for 20 minutes.
Once the dish is ready it should be golden brown and bubbling. Let cool for a minute or two while you're pouring yourself another Copper Legend, or Jack's Abby's lager of your choosing.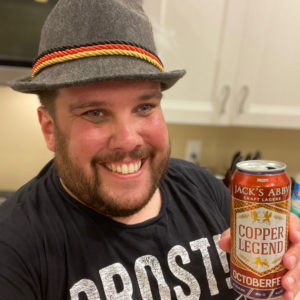 I'd recommend sticking with the Copper Legend. The inherent toasted bread notes from the malt work nicely with the rich cheese and sharp mustardy flavor in the Mac and cheese. You can cut through some of the richness of the decadent melted gouda with each sip of this light but robust lager.
Hope you enjoy this seasonal favorite as much as I do, and please let me know what you think, or what twists of your own you might add.
Allo Gilinsky is a lager lover, an Octoberfest aficionado, and aspiring Cicerone. Pairing beer with food is a passion of his, and he finds that cooking with beer is a great way to enhance a recipe. His love of lagers brought him to collaborate with Jack's Abby on a timely blog post featuring an original and favorite recipe of his. By day, Allo works for Craft Beer Cellar as their eCommerce and events specialist. For fun, he curates a blog and social media presence under the Craft Beer Concierge handle exploring the world of craft beer through his own eyes.