We dusted our crockpot off and made some Smoke & Dagger beef stew!
This recipe is perfect for a chilly night in, so cancel those Friday night plans and relish in the comfort of this stew.
Check out the recipe below.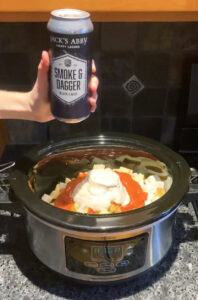 Ingredients:
1 lb. beef cubes or stew meat
1 bag of carrots
2 cups of celery
2 potatoes
1 onion
1 can tomato soup
1 can cream of mushroom soup
1/2 can Smoke and Dagger (or more for more beer flavor and a less creamy result!)
Instructions:
Add meat and carrots to crock pot
Chop celery, potatoes, onions, then add
Dump in both cans of soup and as much Smoke and Dagger as desired
Set the crock pot to low all day or to high for 4-5 hours
Top with parmesan cheese if desired and enjoy with more beer of course!
*This recipe is super easy and great because you can easily change the amounts of ingredients! Add more carrots if you want, less potatoes, pretty much anything goes!