Written by Joe Connolly, Sales Director
Last October, Jack and I romped through Germany, Czechia, and Austria for 11 days, the second overseas trip for our upcoming book. As ever, I left thinking I'd find the answer to one set of questions and returned mostly satisfied; though, of course, with a whole new set of questions. Here's an overview of the first part of our trip through Bavaria and Franconia.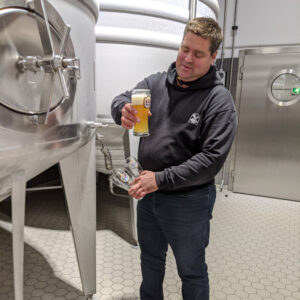 Our trip started in Munich, but we quickly escaped the confines of the city to pay a visit to Muellerbrau in Pfaffenhofen, near the heart of the Hallertau. Head brewer Alex Buech has been at the brewery for about a decade, and in that time he's brought more and more acclaim to the centuries-old brewery, particularly for their fantastic helles. It's bright, clean, round, and supports a great rollicking head of foam, especially served right off the tank.
We headed north and spent the next few days with Bamberg as a home base. This famous beer city is simply oozing with beer culture, from the unique and original rauchbiers (smoked beers) to the huge variety of Franconian lagers. Bamberg is in the heart of Franconia, which is officially a part of Bavaria but in reality, exists as a culturally and linguistically distinct community. Franconians don't suffer fools gladly and gleefully reject the idea that they are Bavarian – here the white and blue of Bavaria is replaced by the red and white of Franconia.
The beers here are distinct from the modern helles of the south; where the modern Bavarian lagers favor ever-leaner bodies and ultimate drinkability, their Franconian counterparts defy easy characterization. The sheer variety of breweries in Franconia ensures that each of them produces a relatively modest amount of beer, and can do so to fit the flavor preferences of a relatively local population. Malt body, sweetness, and yeast character differ from brewery to brewery; one throughline here is that the beer has a character driven by older equipment and techniques. Coolships, open fermentation, wood-smoked malt, and beer service from wood are among the vestiges of older technology on display in many of these smaller breweries.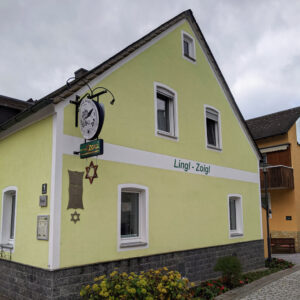 We left the friendly and familiar confines of Bamberg for a totally new experience for both of us – the wild Zoiglstubes in Windischeschenbach. This tiny town has in its center a communal brewhouse shared by the various "houses" that serve Zoigl. Each house has a recipe for a single beer, which is brewed in the communal brewery and brought back to the pub for serving. Service rotates through the fourteen Zoiglstubes, who advertise being open by hanging a six-sided brewer's star outside.
At Beim Gloser, families sat and shared bread and beer. Patrons came and went, filling large vessels with beer to bring home. This humble pub served one of the best beers we had on our trip, an amber-colored lager with expressive yeast character and light, pillowy foam.
That particular beer holds an insight for me personally- that not all lager fits the stereotypical "crispy" description. We talk about lagers being dry, yeast-neutral, and simple because those descriptions fit some of the most popular (and delicious) lagers in the world. Yet just under the surface, a whole world of complex lagers awaits discovery.
Some of those lagers awaited our attention just across the border in the Czech Republic. There we had our perceptions of lager, its origins, and its future challenged on more than one occasion. Stay tuned for more.