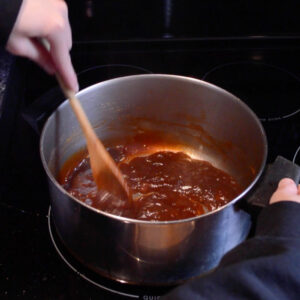 Remember those warm summer barbeques with sticky ribs, a cold lager, and some great company? Well you can recreate those flavors with House Sauce any time of the year. Enhance those sweet, smoky, savory flavors with our traditional, malty, German-style House Lager. Check out the recipe below and give it a go yourself!
Ingredients:
2 teaspoons cooking oil
1 medium onion, diced
12 oz. House Lager
1/4 cup brown sugar
3/4 cup ketchup
1 tablespoon apple cider
4 tablespoons honey
1 teaspoon cumin
2 teaspoons garlic powder
1/2 teaspoon black pepper
Instructions:
Add onion and cooking oil to deep saucepan on medium to high heat
Splash onions with beer to deglaze, then pour in remainder of beer
Simmer until liquid reduces by half
Change heat to low
Add other ingredients, stir, and simmer to reduce
When thickened to liking, remove from heat
Keep refrigerated for up to two weeks
Add this sauce to just about anything including a burger, chicken wings, or ribs and don't forget a House Lager to wash it down! Are you cooking with lager? Be sure to tag us @jacksabbycraftlagers for a chance to be reshared!