Our collaboration brew with Wibby Brewing actually started in Longmont, Colorado earlier this year.
In Jack's never-ending thirst for learning everything he can about lager, he headed to Colorado to visit a lager-only brewery he'd found through a bit of research: Wibby Brewing, based in Longmont.
"I was so excited when I received his email, I asked if when he came out, we could do a collaboration beer," said Robin Wibby, Strategist, Special Projects, and Events Manager at Wibby.
In May, Wibby released the collaboration "Jack's on the Rocks", a smoky Steinbier that was brewed using a traditional method of heating stones to boil the mash; a process they recreate annually to brew beers. Fun fact: one time they brewed a beer using this process with an actual meteorite from NASA!
With the release so popular in Colorado, and Jack inspired by the stone brewing process, he invited Wibby to Framingham in late June to brew our collaboration Steinbier, part two.
Meaning "stone" in German, a Steinbier is a traditional beer brewed by using super-heated stones to boil the mash. In the early 20th-century brewing vessels were largely made of wood, and thus, could not be directly fired. Hot stones coming in direct contact with wort create complex caramelized malt flavors. In our collaboration with Wibby, we added another layer of flavor – smoke. 385lbs, or 87% of this lager's malt bill, was smoked over Beechwood. Jack's Abby Fire in the Ham fans, rejoice!
But first, let's talk about those hot rocks.
We roasted a few hundred pounds of granite cobblestones in fire pits for several hours, until the rocks reached temperatures of over 700 degrees Fahrenheit. At first, we tried roasting them in a pig roaster, and well, that didn't go as planned. RIP roaster: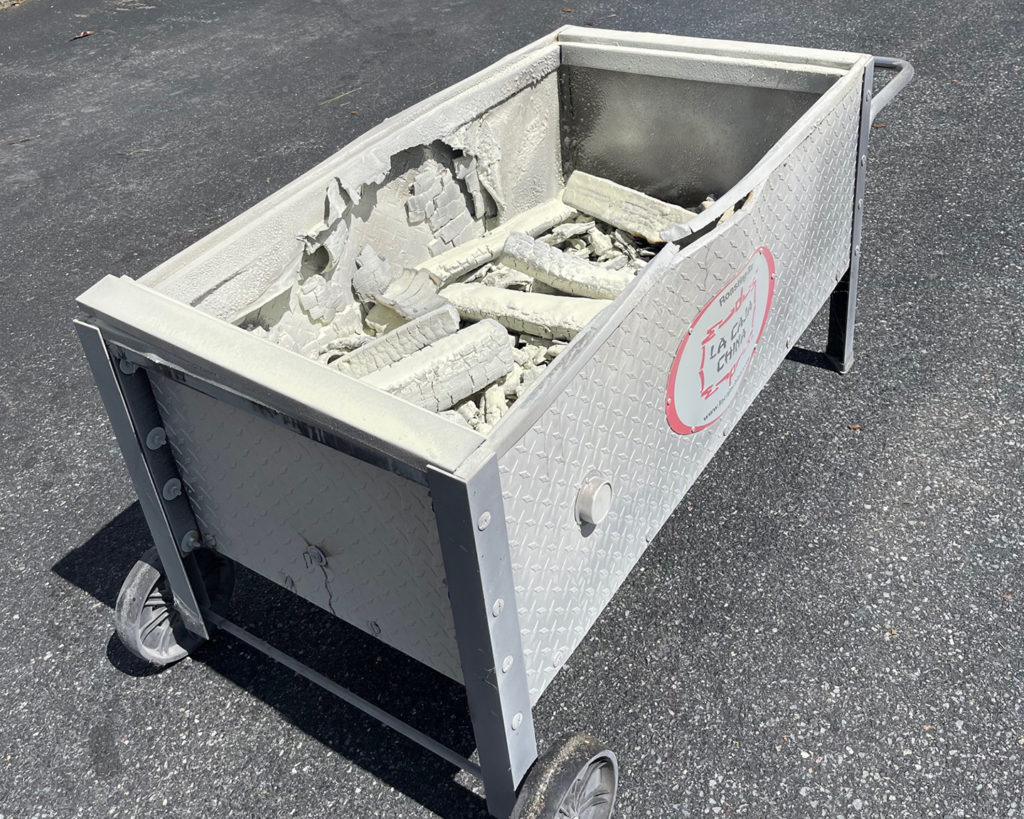 So, we busted out the fire pits. Success! Using a forklift and a pair of VERY heavy-duty gloves, we loaded the stones into our mash tun and pumped in the wort.


The wort bubbled and steam rolled out of the kettle like a witch's cauldron.
For Jack's Abby Fire in the Ham fans, this collaboration beer is essentially exactly that, but with the added bonus of some extra caramelization from this traditional brewing process.
Prost!
ABV: 5.5%
Appearance: Golden.
Aroma: Smoky, campfire.
Flavor: Malty sweet, biscuity.
Availability: Beer Hall exclusive. On draft and in 16oz 4-pack cans.