With a shared love and respect for German brewing tradition and inspired innovation, a Bierstadt Lagerhaus/Jack's Abby collaboration is about as lager geeky as you can get: In 2020, Jack's Abby was named the number one Favorite Lager Brewer by Craft Beer and Brewing; last year, Bierstadt beat us to it.
How did a Denver-based lager-only brewery find its way to Framingham, Massachusetts? Through a Philly-based podcast, naturally. Co-owner and brewer of Bierstadt Lagerhaus, Ashleigh Carter explains:
"Jack and I first met on the Beer Busters Podcast in June 2021 where we were invited to talk about making traditional lagers. I'd known about Jack's Abby for a long time. As a lager brewer I knew how they paved the way for craft lager, but I had never met any of them until the podcast."
After the podcast, Jack and Ashleigh started sending each other beer. A short time later, then Jack's Abby's lead brewer Mike "Lashes" Gleason visited Bierstadt in Colorado while on vacation, met with Ashleigh and co-owner Bill Eye, went on a tour, had some beers, and got to talking.
"I try to only do collaborations with people who have a shared vision," said Ashleigh. "There has to be something in common, or something we can learn from each other. It was clear when I was talking to Lashes and from being on that Podcast with Jack that we have a shared love for Germany. We bonded over our experiences there, and over our shared love of lager."
Over the next year, Bierstadt and Jack's Abby's paths kept crossing. Jack went to Colorado to check out their brewery in January 2022, then the brewers bumped into each other again at the Craft Beer Conference in Minneapolis that May. At CBC, Jack invited the Bierstadt duo to Framingham to present at the Master Brewers Association meeting being hosted at his brewery later that month. Over a few beers, as most great things happen, they figured while Bierstadt was in town…why not take the opportunity to brew together?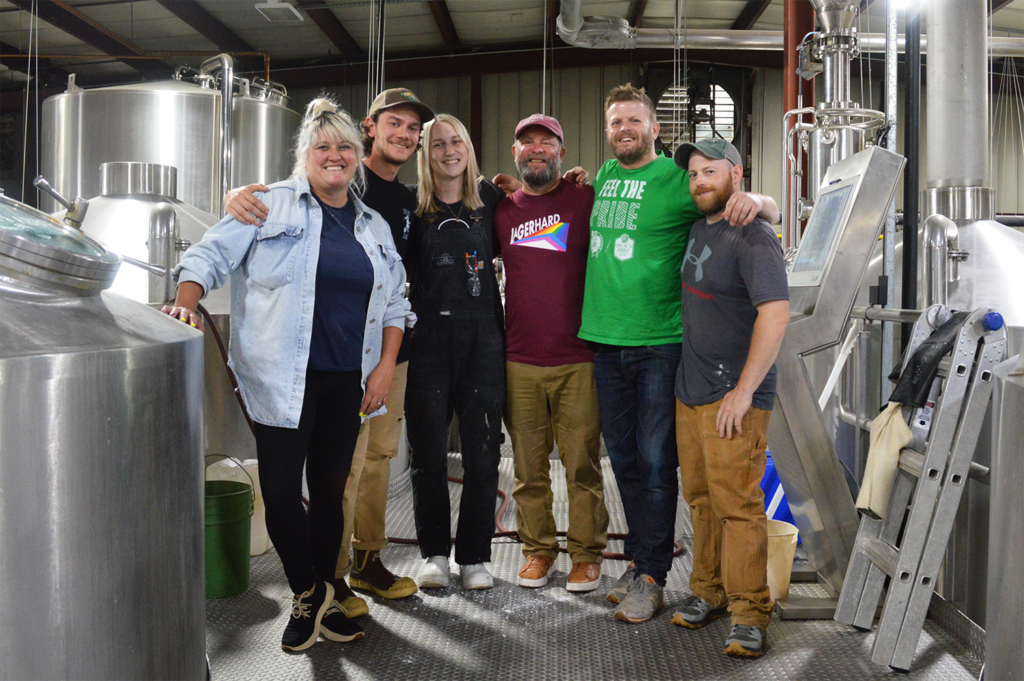 They decided to brew an Export Lager.
"We wanted to do something that we both hadn't done," said Jack. "Even though it's not a particularly extreme beer, it's just a style of beer that both of us wanted to do."
According to Ashleigh, coming up with the recipe was a pretty easy process.
"We had pretty similar ideas and the recipe was pretty collaborative," she explained. "I threw the idea of an Export Lager out there – it kinda fits into a cool little niche."
So, what exactly is an Export Lager?
"It's basically an Octoberfest, but very light in color. There's almost no difference," said Jack. "In Germany, you can only call a beer an Oktoberfest if you brew it in Munich. So what do people who are outside the city limits do? They either brew a 'Festbier' or a year-round 'Export Beer.'"
Prost!
ABV: 5.7%
Appearance: Deep golden to light orange.
Aroma: Malty, toasted bread, light noble herbal hop aroma.
Flavor: Full-bodied, balanced bitterness, hint of marzipan.
Availability: On draft and in 16oz 4-pack cans in the Beer Hall only 7/22-7/24. Distribution starting 7/25 to: MA, RI, CT, NH, NY, NJ, VA, MD, CO.