How's this for a creative *twist* on Post Shift: Post Shift Pretzels! Let's get baking:
Ingredients:
12 ounces Post Shift
1 tablespoon sugar
1 teaspoon sea salt
1 package active dry yeast or 2 and 1/4 teaspoons
2 ounces melted unsalted butter
4 and 1/2 cups flour
10 cups water for boiling
2/3 cups baking soda for boiling
1 egg yolk beaten with 1 tablespoon water to top pretzel
More sea salt to top pretzel
Vegetable oil for bowl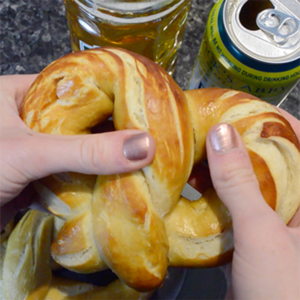 Instructions:
Warm the beer to 110-115°F on stovetop.
In a stand mixer with the dough hook attached, add the warm beer, sugar, sea salt, then sprinkle the yeast on top. Let the mixture sit for about 5 minutes, or until it starts to get foamy.
Add the butter and the flour. Turn the mixer to low speed and mix until dough comes together.
Increase the mixer speed to medium to knead for 4-5 minutes. Dough with be clinging to the hook and forming a ball.
In a clean bowl, add vegetable oil to coat sides. Quickly drop the dough into the oiled bowl, turning the ball to coat in oil as well.
Cover with plastic wrap and a tea towel, then allow to rise for about 1 hour, until dough has doubled in size.
Preheat oven to 425°F.
Line two baking sheets with parchment that's been lightly sprayed with canola oil.
In a large pot, bring 10 cups of water and the baking soda to a boil.
Meanwhile, shape pretzels. Turn the dough onto a lightly oiled surface and divide into 8 pieces. Roll out pieces, and create a "U" shape. Twist the ends of the "U" twice and then pull back down over the bottom of the "U" to make pretzel shape!
When all pretzels are shaped, add them 2 at a time to the pot of boiling water, allow them to boil for 30 seconds. Then remove from the water and place onto baking sheets.
Brush each pretzel with the egg mixture and sprinkle with kosher salt.
Bake for 12-15 minutes or until browned.
Serve straight out of the oven with more Post Shift!
Check out our Instagram to see how we made them!