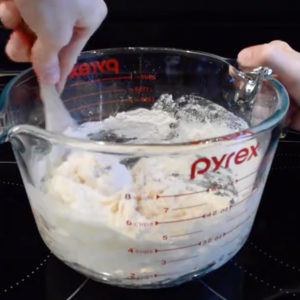 After a long day at work, what could be better than a homemade pizza and a refreshing Pilsner? We can't think of anything. What makes this recipe even better? You can buy some Jack's Abby Post Shift to use in the pizza dough and have leftovers to sip on as you make your pizza. You can also make this dough in advance and put it in the refrigerator after it has rested for 1 hour (step 5 below), just remember to take the dough out 30-60 minutes before you want to make your pizza so it can come to room temperature.
Ingredients:
2 cups all-purpose flour
3/4 teaspoon salt
1/2 teaspoon baking soda
Half a cold, 12 oz Post Shift
Instructions:
Stir all ingredients together with a fork
Transfer to a lightly floured work surface
Knead for 5 minutes
Put dough back in greased bowl
Let the dough rest for 1 hour
Preheat oven to 500 degrees
Flatten dough into crust, add sauce, cheese and toppings
Bake 10-15 minutes
Put your thinking caps on and dream up your favorite pizza with this Post Shift pizza dough. Be sure to tag us @jacksabbycraftlagers for a chance to be reshared!