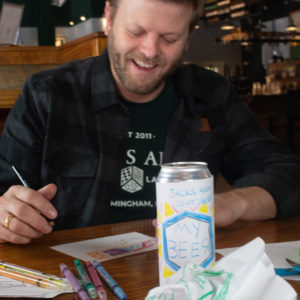 BIG ANNOUNCEMENT: We're working hard on a brand refresh! We gave Jack a shot at the project, but maybe it's better if he sticks to brewing and we let our talented designers take this one. There are loads more details below if you're curious, and as always hit us up with any questions.
"Your current branding and logo are awesome – why would you change it?"
First, thank you for being an awesome customer with generous compliments – you rock! But to actually answer your question, a lot has changed in the nearly 8 years we've had this look:
There were *only* 6,500 breweries in the US
Hello By Adelle was the #1 song of the year
TikTok didn't exist yet
Seltzer wasn't even a blip on the radar
No one had even heard of COVID
We had just moved into our forever home on Clinton Street
That's to name just a few of the crazy things that have happened since we last updated our look. We think that's more than enough reason for some fresh design, but MOST importantly we want to update our design to better reflect who we are and what we value.
We spent a lot of time in the past 2 years answering the tough questions – who are we (thanks Zoolander) and what do we stand for? We've shared this with you previously, but it's worth revisiting:
Our Mission
Create high-quality products that honor tradition and the spirit of inspired innovation. With an entrepreneurial heart and a passion for people, we take pride in learning from and contributing to our vibrant community.
Our Values
Family First
Community Is at Our Core
Tradition With a Twist
Quality is Key
Hustle Hard(er)
So we've taken into account all of these important factors to the fabric of our brewery and woven them into a visual aesthetic that feels more in line with the world around us, and we're excited to share that with you soon.
We will be sharing the new logo in early December, and then sharing new packaging artwork in the new year. Our goal is to start rolling out refreshed products for February 2023.
We live for lager, and this is a big step in our lager journey that we look forward to sharing with you.
Prost!