We're thrilled to share that Bourbon Barrel-Aged Framinghammer has been named the #1 beer of 2019 by Wine Enthusiast!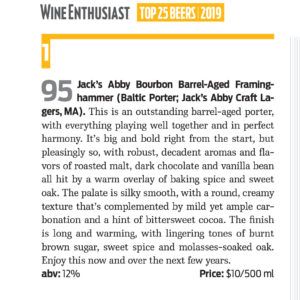 The Top 25 Beers list is an exclusive selection of the best beer reviews from the past editorial year. Bourbon Barrel-Aged Framinghammer will appear in the publication's Best of Year issue, which also includes the Top 100 Wines and Top 100 Spirits. This is Wine Enthusiast's largest and most widely distributed issue of the year, and we're excited to be front-and-center on it.
For those that don't know, Bourbon Barrel-Aged Framinghammer is our dark and decadent Baltic porter aged in bourbon barrels. This unusual lager style has many similarities to imperial stouts. A lengthy conditioning period in oak creates a smooth, chocolaty texture enhanced by additions of oats and brown sugar. Noticeable sweetness gets balanced by roasted malt and hop bitterness.
The Best of Year issue is out now for subscribers, and will go online on December 4. Our friends at Springdale Beer Co. also placed 11th for their Friends in Merlot Places barrel-aged sour, so make sure you check it out!