It's been a long day and you're ready for a lager. You reach into the fridge, grab the closest can, and crack the tab. Ahh, bliss. Yet a lot of work went into getting that refreshing beer from the brewery into your hand.
Our production team works hard to package our beer in a number of different formats, including kegs and bottles. But no vessel is more prominent in craft beer right now than cans. Cans have become increasingly popular for a number of reasons, notably quality assurance and convenience. It's the reason we package the majority of our lagers in cans!
Our team breaks down the process of packaging beer into six essential steps:
Containment
Protection
Apportionment
Unitization
Convenience
Communication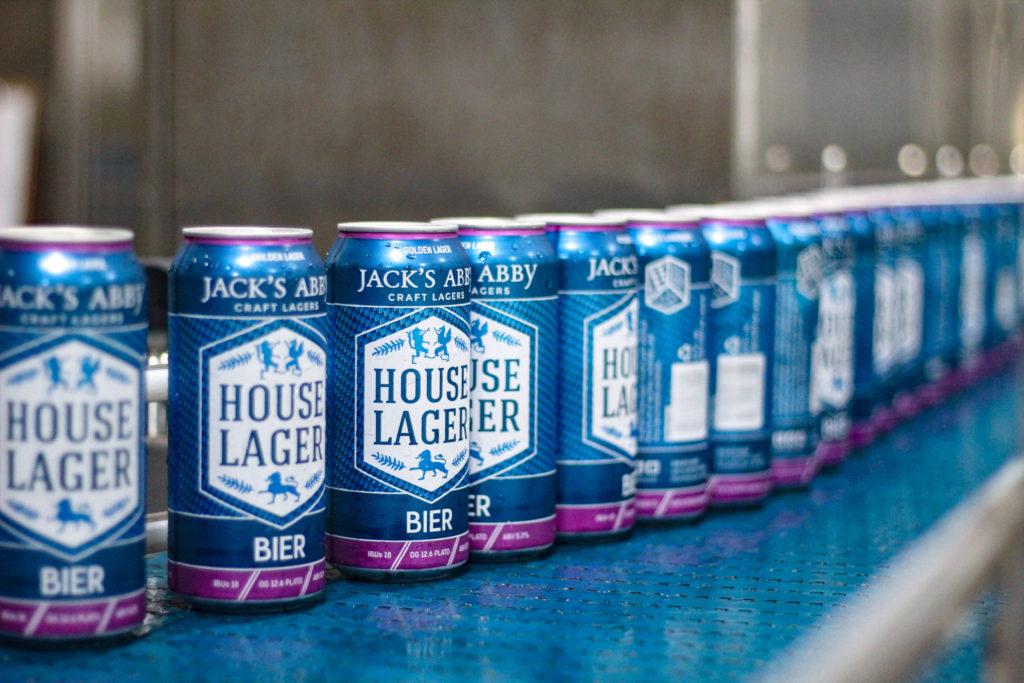 Containment
Containment refers to the format the beer is packaged in. This ranges from kegs pouring at a bar, to bottles housing a rich stout. Choosing the right type of containment for beer is important for a number of reasons. Not only does this format display the beer packaging in different ways, but there are many advantages and disadvantages to each. Simply put, we want to keep off-flavors from infiltrating your beer, and that starts with choosing the right container. For us, that often means cans, but beers with wild yeast or extended aging times (like our barrel-aged Framinghammers) are better suited for bottles.
Protection
When done right, beer packaging equals beer protection. Packaging keeps your beer tasting great. It prevents beer spoilers like light and oxygen from infiltrating your delicious beverage. We're periodically testing for things like oxygen and carbonation during packaging runs to ensure the final product is as fresh as we intended. Cans offer a lot of protection from these factors in a durable, eco-friendly package.
Apportionment
Beer packaging allows us to portion out how much beer we offer per serving. Breweries like us need to be able to measure what we're selling, and you want to know how much you're drinking. Whether it's a 12oz can, .5L bottle, or 1L stein, it's important to be able to properly serve beer in the correct fashion. Apportionment can vary, but it is typically driven by the style of beer and its alcohol content.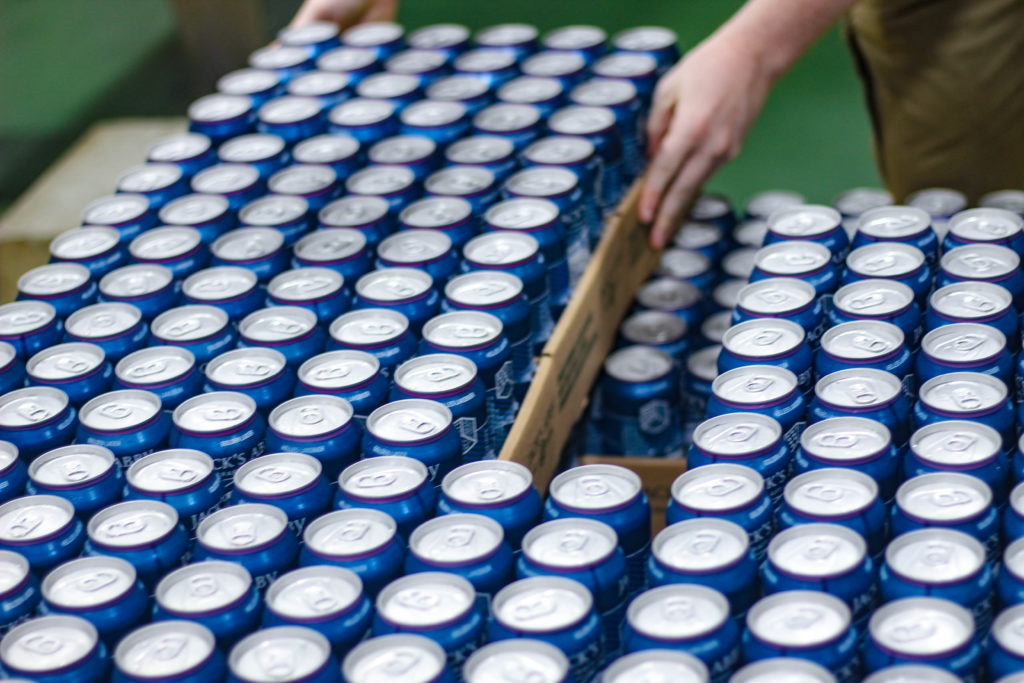 Unitization
Simply put, this process means getting 15 cans of House Lager packed into a 15 pack, putting 24 cans into a case, or even loading 18 pallets onto a truck. Beer must continually be unitized by our team to keep things organized and accounted for. Each step of unitization involves various stages of labor and technology, like case packers, tray formers, and automated palletizers. Often times a combination of these are used when we package our lagers in multiple formats! 

Convenience
This step refers to how easy it is to grab your favorite beer. A sturdy handle on a 12- or 15-pack can be the determining factor when re-purchasing a product. In today's world, we're all busier than ever, and creating convenience like this is a must. 
Communication
Beer packaging speaks. It not only communicates art through its label, but it also relays important info about the liquid inside. ABV, IBU, where it was brewed, etc. The communication efforts on the can reflect the effort put into creating the product. This has the ability to visually entice drinkers and promote transparency in what they're drinking, making this an important final step in packaging beer.
By this point, that beer is stocked at stores and ready to drink! So the next time you go for a crisp sip of lager, or pop a nice bottle of beer, remember the hard work that went into getting that beer into your hands. Prost!