Since we opened our doors in summer 2011, the support shown to us by the Town of Framingham has been integral to our success. To celebrate four years of support, we're re-leasing the popular Framingham Lager as a tribute to the people of Framingham. Once again, a portion of Framingham Lager proceeds will be donated to the Framingham Downtown Renaissance, our partner in giving back to the community.
Framingham Lager is a traditional American-style lager brewed with 100% high quality 2-row malt and 100% real hops, no adjuncts. Honest ingredients and traditional brewing methods combine to create a crisp, flavorful, and refreshing beer. Framingham Lager will make its return on Wednesday June 10th in the taproom. It will be featured on draft at Framingham establishments and can be found in 12-packs throughout Massachusetts.
In addition to the donation, a limited edition Framingham-only run of Framingham Lager bottles will be released featuring art by renowned local artist Sorin Bica in collaboration with the Front Door Framingham Mural Project. Bica is working with the Front Door Framingham Mural Project to create a bold, modern, community-themed mural at the crossroads of Routes 126 and 135 in downtown Framingham. FDR Executive Director Holly Andrews says, "This gateway mural will establish a new distinction for Downtown Framingham- a unique, colorful place where people will come to meet up and be part of something great!" Jack says, "We're excited about the energy Bica's mural will bring to Framingham and we hope the limited-edition label helps the community get excited too."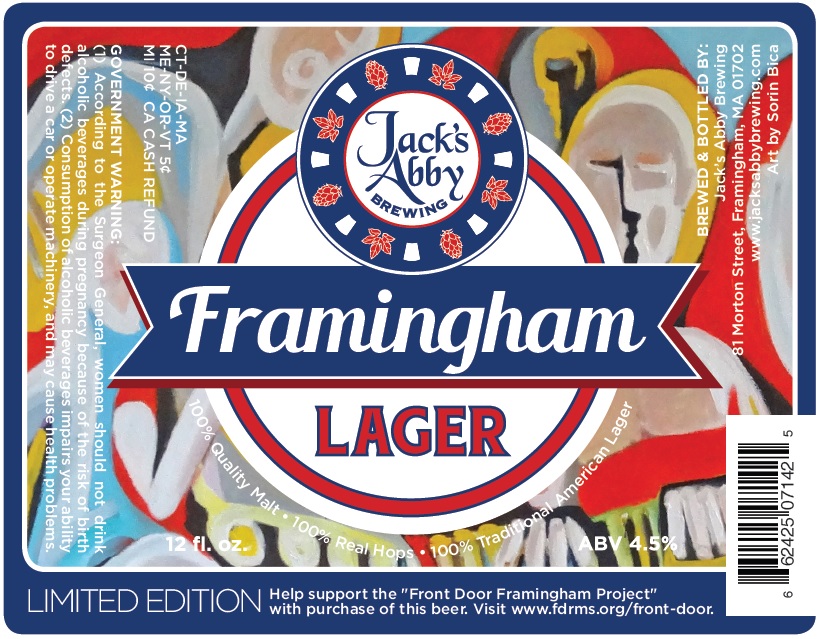 About Framingham Downtown Renaissance, Inc: Framingham Downtown Renaissance, Inc. is a 501c3 nonprofit corporation. Since 2008, Framingham Downtown Renaissance has been committed to facilitating the development of Downtown Framingham as a vibrant blend of commercial and residential mixed-use space.  The money raised will be used primarily to recruit public and private partnerships and investment, in order to generate jobs and income, increase community connections, and support good design at a location that is highly visible and critically important to the MetroWest region. Read more about them at fdrms.org.