12dec5:00 pm- 10:00 pmRail Trail's 5 Year Anniversary5:00 pm - 10:00 pm 33 Main St Hudson MA 01749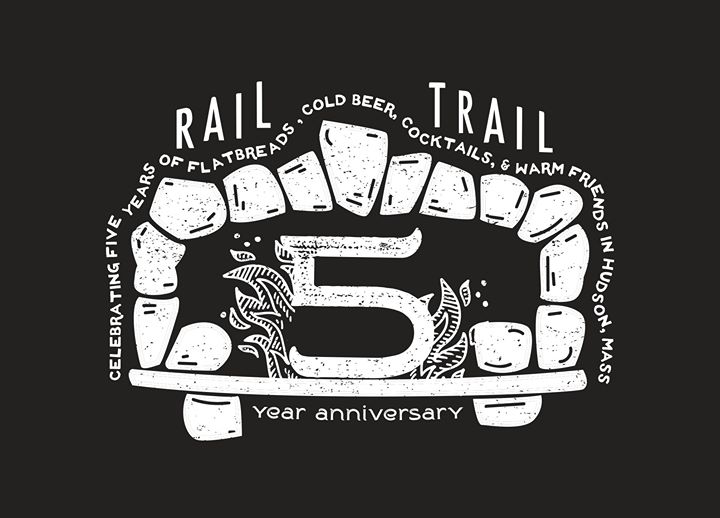 Details
As the old saying goes, time flies when you're having fun! Five years ago we began a journey together with the town of Hudson, Massachusetts. An idea to open a small flatbread shop evolved into something we could only dream about. From a core group of individuals we've grown to a giant family that extends throughout the region. Our success was birthed out of a community's hope to do something special back in 12/12/2012 and it remains with us today!
We are so grateful now to be able to share our five year anniversary with all of you! Rail Trail is a community restaurant and we are so honored to be a part of this lively dowtown and among the many great businesses in Metrowest. In honor of this milestone, we want to celebrate in style.
Join us for a five course pairing dinner that will take you on a short glimpse of our journey since we opened our doors. Each dish and beverage pairing represents a story from our past and we would love to share that with you. Each course will be paired with a beer from some of our friends in the beer community featuring selections from Wormtown, Medusa, Jack's Abby and Night Shift. There will be also be cheese from Mullahy's and special treats from our sister businesses New City and <>.
Please arrive at 5:30pm. Dinner will be served promptly at 6:30pm. Dress to impress and be ready to have a great time.
Cost is $75/per person and all proceeds will be given to Willis House Shelter, a local shelter which helps families get back on their feet during a time of transition. Thank you for all of your support over the last five years. We look forward to spending the evening with you and to many more years of wood fires, cold beers and warm friends.
(Tickets will be sold on a first come, first serve basis. This is a family event, families are welcome. We do try and fill all our seats on charity nights so tables may be shared with your neighbors. Our normal menu will not be served that night and we will only open to ticketed guests. Please arrive on time as this will be a pairing event with spoken stories shared in between, we don't want to interrupt any special guests!)
Time
(Tuesday) 5:00 pm - 10:00 pm
Location
rail trail flatbread co.
33 Main St Hudson MA 01749