Tuesday – Thursday, Sunday:
11:30am – 9pm
Friday & Saturday:
11:30am – 11pm
Monday:
Closed
Stop by the new Jack's Abby Beer Hall & Kitchen at 100 Clinton Street in Framingham. Grab a pint of lager and order up a fresh wood-fired pizza (or other delicious dishes from pork shank to mussels!). Fill a growler or buy some bottles to go! Check out the list of brewery only specialty releases that you can't get anywhere else. Don't forget to check out the gift shop too!
Looking for brewery tours? Please bear with us, we're still a bit of a construction zone out back. Tours will resume Winter 2015, check back soon!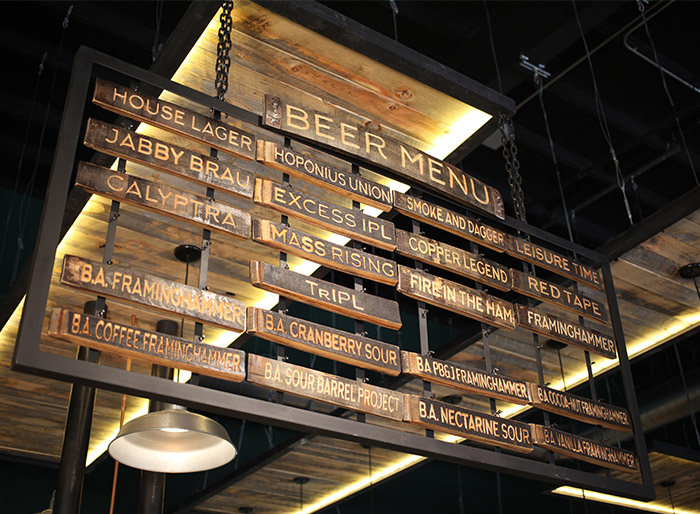 Currently Available Lagers
Excess IPL
India Pale Lager


MA, RI

Calyptra
Extra Pale Lager

Barrel-Aged Framinghammer
Baltic Porter

Coffee Barrel-Aged Framinghammer
Baltic Porter

Fire in the Ham
Rauchbier / Smoked Lager

House Lager
Landbier

Red Tape
Lager

Vanilla Barrel-Aged Framinghammer
Baltic Porter

Copper Legend
Octoberfest

trIPL
Triple India Style Lager

Leisure Time
Wheat Lager with Spice

Mass Rising
Double India Pale Lager

Jabby Brau
Session Lager

Smoke & Dagger
Black Lager

Hoponius Union
India Pale Lager

Sour Cranberry
Sour Nectarine
Nitro Framinghammer
3x Dry Hopped Hoponius w/ Citra
3x Dry Hopped Hoponius w/ Calypso
3x Dry Hopped Hoponius w/ Simcoe
Last Updated: 09/30/2015
*brewery only, bottle availability may vary, first come first serve.
Margherita $12
Crushed Italian Tomatoes/Fresh Mozzarella/Basil
House Spicy Fennel Sausage & Ricotta $14
Roasted Red Peppers/Tomato Sauce/Mozzarella
Wild Mushroom $15 
Leeks/Gruyere/Garlic Cream/Tarragon/Truffle Oil
Potato & Bacon $14
Garlic Cream/Cheddar/Scallions<
Autumn Squash & Sage $14
Pecorino/Goat Cheese/Pine Nuts/Garlic Cream
Clam & Bacon $16
Fresh Mozzarella/Pecorino/Thyme/Red Pepper Flakes
Prosciutto & Arugula $15
Fresh Mozzarella/Dates/Thyme/Grape Must
BBQ Pork $15
Pineapple/Serrano Chili/Cilantro/Red Onion/Gruyere
Fennel Salami & Spiced Coppa $15
Tomato/Basil/Pecorino/Mozzarella
Old Reliable $10
House Tomato Sauce/Pecorino/Mozzarella
Bacon $3
Fennel Salami $2.5
Spicy Fennel Sausage $3
Clams $3
Sauteed Onions $2
Autumn Squash $2
Potato $2
Arugula $2
Goat Cheese $2.5
Fresh Mozzarella $2.5
Braised Pork $3
Prosciutto $2.5
Spiced Coppa $2.5
Roasted Red Peppers $2
Wild Mushrooms $2
Pineapple $2
Leeks $1
Garlic Confit $1
Ricotta $2.5
Smoked Cod + Parsnip Chowder $8
with Bacon/Chive Biscuit
Smoke & Dagger Braised Beef Goulash $12
with Bread Dumplings
Local Cheese and Charcuterie* $16
with House Pickles and Toasted Bread
Bosc Pear & Goat Cheese Salad $10
with Belgian Endive, Baby Spinach, Walnuts + Sherry/Walnut Vinaigrette
Coriander Crusted Salmon Salad* $12
with Watercress, Cucumber, Red Onion + Spiced Yogurt Dressing
Grilled Beef and Field Greens Salad* $16
with Cherry Tomato, Cucumber, Carrot, Local Bleu Cheese, White Balsamic Dressing and Trebbiano Grape Must
Wood Fired Chicken Wings $10
with Rosemary, Olive Oil and Sea Salt & Sauteed Onions
Mussels $12
Steamed in Leisure Time Lager, Garlic, Herbs and Toasted Bread
Seared Sea Scallops* $15
with Spinach Risotto & Pimenton Oil
Braised Pork Shank $16
with Leek/Kale Mashed Potato, Baby Carrots and Gremolata
Four Cheese Macaroni $12
and Cheese with Bread Crumb Topping
– Add Braised Pork (or any pizza topping) $3
House Brined Wood Roasted Chicken $16
with Sausage Stuffing and Pan Gravy
Seared Atlantic Salmon Fillet* $18
with Chorizo and Littleneck Clams, Spinach and Roasted Potatoes
House Bratwurst $15
with Gruyere and Sautéed Onion Spaetzle and Sauerkraut
Wood Roasted Autumn Squash $14
with Crispy Polenta and Vegetable Pan Gravy
*Consuming raw or undercooked meats, poultry, seafood, shellfish, eggs or unpasteurized milk may increase your risk of foodbourne illness. Please notify your server if anyone in your party has a food allergy before placing your order.
DOWNLOAD THE MENU PDF
WOOD-FIRED PIZZA OVEN

Our wood-fired oven was built on-site by a team from Maine Wood Heats with 100% organic Terre Blanche clay bricks from Larnage, France which has been used in oven-making for nearly 200 years. With a cooking surface of 27.5 sq feet there is plenty of space for us to fire up pizzas for everyone!
24 LAGERS ON TAP

Not only will you find our year-round favorites and seasonal offerings but we regularly brew specialty lagers just for our Beer Hall & Kitchen visitors. Have a flight with your meal and then take a growler home with your favorite!